LODD: Ventura City Firefighter-Paramedic Matthew Clapsaddle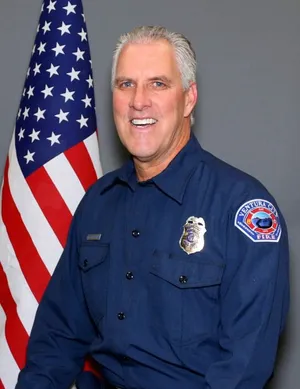 Ventura Fire Department and Local 3431 are saddened to announce the loss of one of their own.
Firefighter-Paramedic Matthew Clapsaddle, 59, passed away on August 20, 2022. He served the Ventura Fire Department for 28 years. He is survived by his wife, Jennifer, and son, Tanner.
MEMORIAL SERVICE:
Friday, September 9, 2022, 10:00am-12:00pm at Calvary Community Church, 5495 Via Rocas, Westlake Village, CA.
A live stream will be broadcasted during the memorial service. The live stream can be accessed through the Ventura Fire Department website at www.VenturaCityFire.com and will be available on both Facebook and YouTube.
ADDITIONAL INFORMATION: 
Mandatory Honor Guard and Pipes & Drums practice:
Thursday, September 8, 2022
1530 hours
Calvary Community Church
5495 Via Rocas, Westlake Village, CA 91362
Mandatory Report time for Honor Guard & Pipes & Drums:
Friday, September 9, 2022
0800 hours
Calvary Community Church
5495 Via Rocas, Westlake Village, CA 91362
Fire Apparatus Display:
Friday, September 9, 2022
0800 hours
Calvary Community Church
5495 Via Rocas, Westlake Village, CA 91362
RSVP: "Robert.Kaufmann@ventura.org"
Honor Guard contact:
Thomas Jay, pompier1067@aol.com
Pipes & Drums contact:
Jeff Hahn, firepiper1@gmail.com