LODD: Tracy Fire Captain Dan Havicus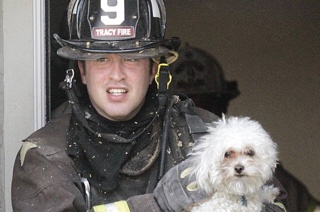 Tracy Firefighters Local 3355 is saddened to announce the passing of one of their own in the line of duty.
Tracy Fire Captain Dan Havicus died January 19th after a short illness. He was just 41 years old.
Brother Havicus served in the Tracy Fire Department for 17 years, rising to the rank of captain. "Havi" was a local product, graduating from Tracy High School and a participant in major strike teams, including the 2013 Rim Fire. His last assignment with Tracy Fire was at Station 97.
Brother Havicus was a father, son, brother, husband and exemplary firefighter who will be sorely missed by his brothers and sisters with Tracy Fire.
Brother Havicus is survived by his wife, Courtney and his four children; Karlie, Jonathan "JJ", Sage and Paisley. He also leaves behind his fire family where he was well respected and admired.
Memorial Services
There will be a memorial service on Thursday January 26, 2017 beginning at 1 p.m. located at the Gallo Center for the Arts (1000 I St. Modesto, CA 95354). Immediately following the service a reception will be held at the Modesto Doubletree Hotel (1150 9TH St, Modesto, CA 95353)
Public service agencies are encouraged to attend. Class A attire is requested. Please arrive at 12 noon to begin the staging process for the 1 p.m. service. The community is also invited to attend.
To view driving directions and parking instructions for the memorial service, click here.
Remembrances
In lieu of flowers, donations can be made to the Havicus Memorial Fund where proceeds will assist the family of Captain Havicus. Those interested in making a donation should contact Tracy Firefighters Assn. Local 3355.
Condolences for Brother Havicus' family may be directed c/o Tracy Firefighters Assn. Local 3355, P.O. Box 185, Tracy, CA 95378-0185.