LODD: Santa Monica Fire Engineer Dominic Smith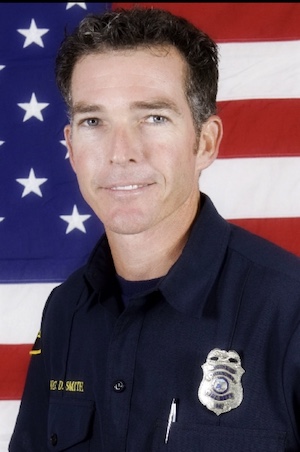 It is with sorrow that the  Santa Monica Fire Department and  Santa Monica Firefighters Local 1109  share news of the passing of one of their own.
Fire Engineer Dom Smith, passed away on July 13, 2023, following a long and courageous battle against a work-related glioblastoma. Engineer Smith was hired with the Oceanside Fire Department in 1994 where he worked as a firefighter for 7 years. After which he was hired with the Santa Monica Fire Department where he promoted to Fire Engineer and served the city and department with distinction for 22 years. He is survived by his wife, Alexa, and their daughter Sydney.
Celebration of Life:
Tuesday,  August 22, 2023, 10:00 a.m. at Saint Monica's Church, 725 California Ave, Santa Monica, CA 90403
To show continued support, a monetary donation may be made to the Smith Family through the Santa Monica Firefighters Relief Fund, a designated 501(c)(3), affiliated with Santa Monica Firefighters Local 1109, please visit www.supportsmfire.org to donate. 
The memorial service will be livestreamed. Information can be found at www.santamonica.gov/departments/fire
Due to limited seating and fire apparatus parking, we ask all who are planning to attend to RSVP at fire@santamonica.gov
We are asking all uniformed personnel and apparatus to arrive no later than 0800 for apparatus staging and personnel placement prior to the families arrival at the Church.
A closed reception will be held immediately following the celebration of life for family along with SMFD and Oceanside Fire Personnel.