LODD: Retired Corona Fire Captain Randy Brunet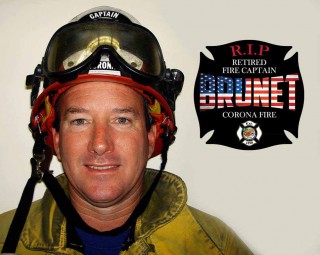 Corona Firefighters Local 3757 is saddened to announce the passing of one of their own in the line of duty.
Corona Fire Captain Randy Brunet was diagnosed with job-related cancer just two years after his retirement. He succumbed to this disease on January 28. He was 57 years old.
Brother Brunet was hired as a firefighter apprentice for the City of Corona in 1987. He promoted through the ranks and served the last 10 years as an engine and truck company captain. He also served most of his career as a Local 3757 board member and vice president. Brother Brunet retired in 2011 after nearly 25 years of service.
Brother Brunet was often recognized for his common sense approach to dealing with labor issues and emergency incidents. Captain Brunet's guiding principal to his crew members was "A&E: Bring a good attitude and effort every day and things will go your way".
Memorial Services
He leaves behind his wife, Madalynne, and 15 year old daughter, Jennifer.
Brother Brunet did not want a formal memorial service. Instead there will be several private ceremonies with just his family and close friends. He asked that, in lieu of flowers, any donations and condolences made on his behalf should go to the Corona Firefighters Benevolent Fund (Tax ID -20-5808023). P.O. Box 1510, Corona, Ca. 92878.
For further information, contact Local 3757 President, Jim Steiner at 951-733-0942.