LODD: Rancho Santa Fe Fire Captain Dale E. Mosby
Rancho Santa Fe Professional Firefighters Local 4349 and Rancho Santa Fe Fire Protection District are saddened to announce the loss of one of their own.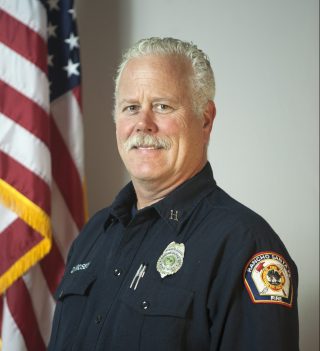 Fire Captain Dale E. Mosby took his own life on November 16, 2020 after a long battle with work related PTSD.
Brother Mosby was a 31-year veteran of the Fire District and was actively involved in training. He was instrumental in establishing Rancho Santa Fe's peer support group. Brother Mosby was held in very high regard, a mentor to many, and a highly respected individual.
Brother Mosby is survived by his wife and two children.
Memorial Information
A private Celebration of Life for immediate family only will be held at Horizon Church on December 5, 2020. Following the private ceremony, there will be an open Honor Drive by Procession, for uniformed personnel to pay their respects to the family. If your agency wishes to participate in the drive by procession, please RSVP to ender@rsf-fire.org. It is important to note that San Diego County COVID-19 restrictions and protocol swill be strictly followed.
If you would like to donate to show your support to the Mosby Family, please visit the following link: rsf-firefoundation.org
For those wishing to send flowers, flowers can be dropped off at 6365 El Apajo, Rancho Santa Fe CA, 92067 on Thursday December 3rd or Friday December 4th between the hours of 8 a.m. and 4 p.m. For more information please contact Horizon Church at (858) 756-5599.
The Rancho Santa Fe Fire Protection District would like to reassure all participants and family members that the San Diego County COVID-19 restrictions will be strictly enforced. Engine companies that choose to participate will remain in their vehicles with their engine company personnel only, for the entirety of the ceremony. All participants are asked to remain masked at all times. Additionally, Rancho Santa Fe Fire Protection District will be abiding by county capacity numbers, social distancing, facial covering, and providing hand sanitation. Your support upholding these measures to ensure safety for the Mosby family as well as all participants is appreciated. For anyone wishing to participate that may be unable to attend, services will be broadcast live from the following link: horizon.org/live.