LODD: Orange Co. Fire Authority Engineer Greg Hennessey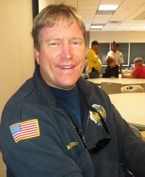 Orange County Professional Firefighters Local 3631 and Orange County Fire Authority are saddened to announce the sudden death of Apparatus Engineer Greg Hennessey.
A 24-year veteran of OCFA, Brother Hennessey died January 20th while on duty at OCFA Station 45 in Rancho Santa Margarita. He was 49.
Hennessey got his start as a volunteer firefighter in New York before moving with his family to California. In 1990, he signed on with OCFA and was promoted to apparatus engineer in 2001. Brother Hennessey was active with the department's Fire Explorer program and also taught at the department's fire academy.
He is survived by his wife, Deanna and sons Ryan and Brandon.
"Family, friends mourn fire engineer found unconscious at station" -- OC Register
Memorial Services
Information about a memorial service for Greg Hennessey will be announced as it becomes available. Please check back here or at www.ocfirefighters.org.