LODD: LA City Firefighter Kelly Wong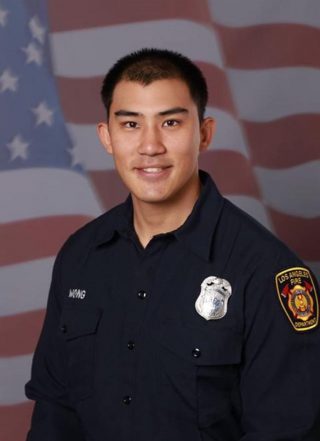 Memorial service scheduled for June 16. The Los Angeles City Fire Department and the United Firefighters of Los Angeles City, Local 112 are saddened to announce the loss of one of their own in the line of duty.
On the morning of June 5th, 2017, Los Angeles City Firefighter Kelly Wong succumbed to the injuries resulting from an on-duty accident.  Brother Wong, 29, graduated with top academic honors from the LAFD Recruit Academy in 2015, after six years as a wildland firefighter, including a stint as a "hotshot" firefighter.
He was in the second year of what LAFD Chief Ralph Terazzas stated "was certainly going to be a promising career."
Brother Wong's passion and commitment to the fire service was surpassed only by his love for his family.  He is survived by his wife, Danielle, and his son, Colton.
Memorial
Memorial services will be held next Friday in Los Angeles, celebrating the life of Los Angeles Firefighter Kelly Wong:
Date: June 16, 2017
Time: Services begin at 9:00am.
Location: Cathedral of Our Lady of the Angels, 555 W. Temple St., Los Angeles, CA 90012
Uniformed personnel attending should arrive by 8:00am. Class A dress uniform requested.
Agencies and locals planning to attend and/or send apparatus, honor guard or personnel are asked to register with the department at lafdmemorial.org.
Please bookmark this page for the latest information.