LODD: Kern Co. Engineer Brian D. Massey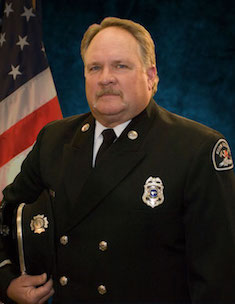 The Kern County Fire Department and Kern Co. Firefighters, Local 1301 are saddened to announce the loss of one of their own in the line of duty.
Kern County Fire Department Engineer Brian D. Massey suffered a significant medical event after coming off shift on May 20, 2017. His death is being considered a line of duty death. He was 56 years old.
Brother Massey began his firefighting career in 1990 and went to work for Kern Co. Fire Department in 2007.
Brother Massey is survived by his three children, Brooke, Breanna and Brandon, his longtime girlfriend Glenna Hammond and his parents Dale and Karen Massey.

Memorial
Services honoring Kern Co. Engineer Brian Massey will be held this Friday, May 26, 2017 at 11:30am.
Services will be held at the Valley Baptist Church, 4800 Fruitvale Avenue, Bakersfield, California 93308.
Departments wanting to send uniformed personnel or equipment are asked to contact Deputy Chief Mike Miller: (661) 391-7000 or mmiller@co.kern.ca.us.
Check this page for the latest information.
Bakersfield.com: "Kern County Fire Engineer Brian Massey Dies After 'Significant Medical Event.'"