LODD: CAL FIRE Heavy Equipment Operator Braden Varney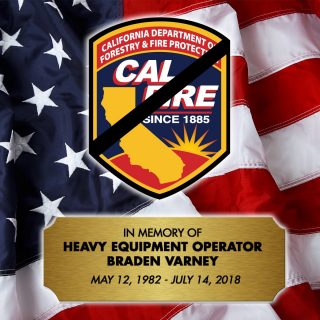 CAL FIRE Local 2881 and CAL FIRE are saddened to announce the loss of one of their own.
CAL FIRE Heavy Equipment Operator Braden Varney died July 14, 2018 while working to prevent the spread of the Ferguson Fire in Mariposa County. Brother Varney was 36 years old.
A second-generation firefighter, Brother Varney had worked for CalFire for 10 years. His father also worked as a CalFire heavy equipment operator.
"Braden is known by everyone in Mariposa County and is a star in our community and is a friend of everyone," Mariposa County Sheriff Doug Binnewies said. Gov. Jerry Brown ordered flags at the state's capitol to be flown at half-staff to honor "a man who dedicated his life to protecting his fellow Californians."
Firefighter Killed While Fighting Ferguson Fire Near Yosemite -- CBS Sacramento
Memorial Services
Members of the fire service are invited to the Celebration of Life for Heavy Equipment Operator Braden Varney on Monday, July 23, 2018 at 11:00 A.M.
The House Modesto
1601 Coffee Road
Modesto, CA 95355
Please RSVP HERE.
Attire: Class A Uniform. For those who are not required to wear a Class A uniform, a long-sleeve work uniform with tie is required. All uniformed personnel are required to arrive no later than 9:30 A.M. the morning of the service.
CALL FOR HONOR GUARD
All Honor Guards are invited to participate. Please contact Bobby Brothers at (916) 672-1444.